OSTEOPATHIC TOTAL BODY ADJUSTMENT
Map Unavailable
Date/Time
Date(s) - 02/03/2018 - 03/03/2018
All Day
Categories No Categories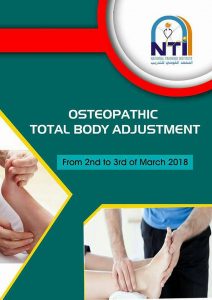 Venue : National Training institute
Cost : 400 L.E
Course objectives:
By the end of the course the participants should be able to:
1. Understand the Holistic approach in diagnosing biomechanical chains.
2. Apply Littlejohn's biomechanical model in clinical practice.
3. Treat different osteopathic lesions in Trunk and extremities through total body adjustment routine.
4. Apply the 10 principles through general osteopathic treatment in practice.
5. Understand the effect of lower limb and pelvic lesions on the spine.
6. Practice new palpation skills to feel and treat different organs and structures through long lever.
Presenter :
Dr. Hisham Khalil
President of Egyptian Society for Osteopathy ( OsteoEgypt )
للحجز يرجي ملء النموذج المرفق والدفع بالمعهد القومى للتدريب
https://docs.google.com/…/1dyxFSRl3MiU2rq6qMY_7xh8jtl9…/edit
الاتصال علي التليفونات الموضحة من الاحد للخميس من الساعة ٩ الي الساعة ٣ عصرا
20817139-20817186